---
Book Design & Illustration
Client Zineb Hattab
Year 2022
Skills Conception, Art Direction, Design & Illustration
Photography Erna Drion
Text Kathia Baltisberger
---







ABOUT THE BOOK
On 26 September, the vegan cookbook "Taste of Love" by chef Zineb Hattab was published by AT Verlag. The book was an immediate sales success and went straight to number 1 in the non-fiction category. The second edition is already in print. On 1 November it was announced: "Taste of Love" is nominated for the German Cookbook Award in the Vegan/Vegetarian category.


The 336-page book tells the story of the chef Zineb Hattab. Zineb, who is called "Zizi" by everyone, first worked as a software engineer. But the desire to stand in a kitchen and work in professional restaurants awoke in her. With a lot of perseverance and ambition, she completed stages with the best chefs in the world. Later she opened her own restaurants (KLE and DAR) in Zurich. The book contains over 110 vegan recipes: garlic knots, lentil stew, couscous tajine and much more.

Zineb Hattab hired a team of women for the book. who approached the task with just as much heart and soul. Erna Drion photographed all the pictures in the book, the texts are by journalist Kathia Baltisberger and art director Delia Guerriero designed the book and drawed all illustrations. It was the first book for all four of them.





In the Press:

---
GAULT MILLEU ︎︎︎
---
PAGES ONLINE ︎︎︎
---
FALLSTAFF︎︎︎
---
NZZ BELLEVUE ︎︎︎
---
TAGESANZEIGER ︎︎︎
---
PERSÖNLICH︎︎︎
---
DEUTSCHER KOCHBUCHPREIS︎︎︎
---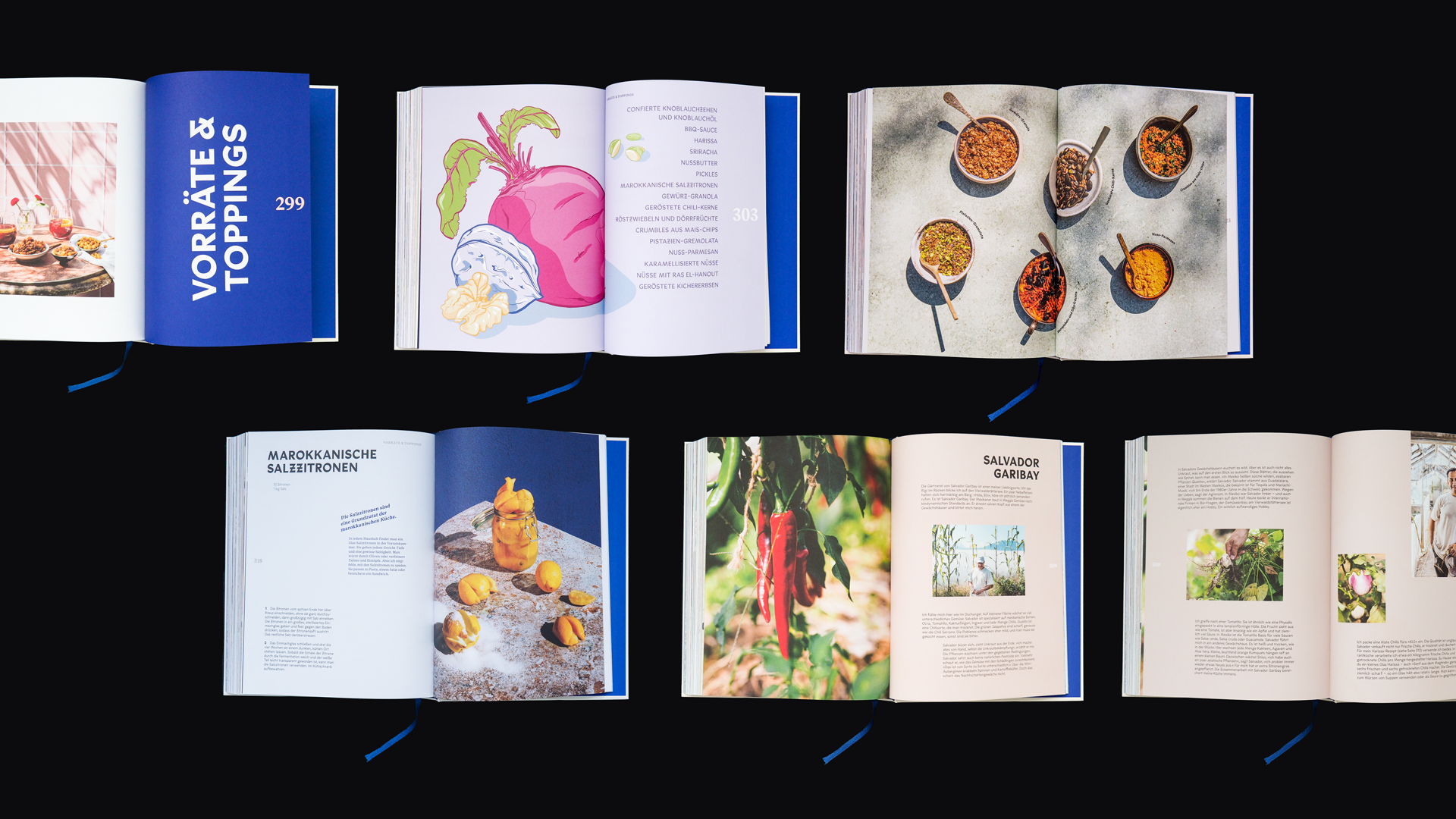 «Dieses Werk ist ein gutes Beispiel dafür, wie gut vegane Kochbücher mittlerweile sind: kreativ, spannend zu lesen, kulinarisch vielseitig und überzeugend.» – Kaisergranat.com


«Eine ganze Welt tut sich da auf, ganz klar mein Kochbuch des Jahres 2022.» – Stevan Paul, NutriCulinary



THE DESIGN
The task was to bring pictures, ideas and texts into a form. "Taste of Love" was to be a contemporary cookbook. At the same time, it should reflect Zizi and her way of cooking. The cover with its playful illustrations shows that she has succeeded. This is also reflected in the interior. The colours that run through the book are also inspired by Zizi's biography: the authentic Majorelle blue is reminiscent of Morocco, the red of Spain. Delia is not only responsible for the layout, she also drew all the illustrations.